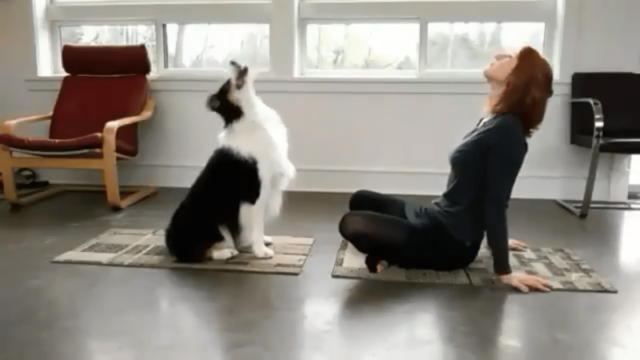 Can A Dog Do A Dog Yoga Pose
In an amazing viral video, a dog does yoga with its owner. This fantastic dog does the dog yoga pose and a few other exercise routines!
In sync with the pet owner, the dog does yoga. The dog brings out the yoga mat. It sits on the mat and does a stretching exercise. It is so good at doing the exercises, it can be a yoga trainer.
Then, it holds the owner's knees to aid her in doing sit-ups. And, this dog also does push-ups and squats!
This dog that does yoga is named Secret. She is an Australian Shepherd that belongs to a student named Mary. This amazing dog is Instagram famous with over 300,000 followers. Her Instagram account is @my_aussie_gal.
Mary's Instagram account posts reveal that this Australian Shepherd is capable of doing a lot of things. This dog can mop the floors and do other household chores such as vacuum.
This dog goes snow sledding, too. And, Secret can also paint.
Secret is a fantastic dog due to training. Mary does spend quality time teaching Secret new dog tricks. Secret is easy to train as seen is her excellent performance of unique dog tricks. Her yoga video has gained millions of views on Facebook. It has been shared by thousands.  
Yet, many who have watched the viral dog video don't know that there is more to Secret than her performing dog tricks. This wonderful Australian Shepherd is Mary's service dog.
Mary has autism which is a developmental disability. This dog had to be trained to do specific tasks. This specialized kind of dog training was done to aid Mary to reduce the severity of her autism.
There are many people who have a developmental disability. There are service dogs like Secret that are trained to aid them. The benefits of having a service dog are many. One of these benefits includes having a constant companion.
It would be such a delight to have a constant companion like Secret, wouldn't it?
Source: BeautifulGirl Angel22 | YouTube