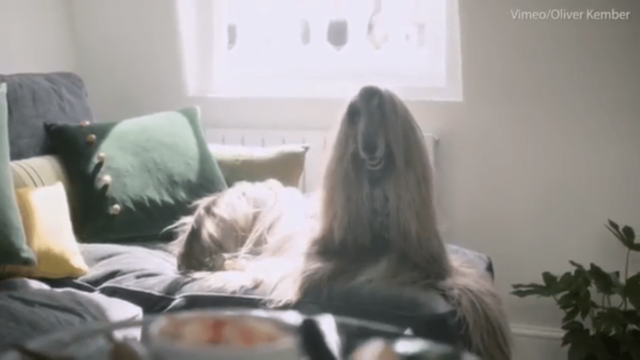 A Supermodel Dog Named Iraida
One of the most beautiful dog breeds in the world is the Afghan hound. This breed of dogs has long, sleek fur covering their tall, statuesque body.  Many Afghan hounds are dog models. And, among the many Afghan hound dog models, there is Iraida.
Iraida is a supermodel that lives in the UK. This Afghan hound six years old. Iraida has been modeling ever since she was a puppy. Her impressive portfolio includes her having modeled for luxury brands like Chanel and Gucci.
She has starred in numerous advertisements including one for the London Oxford Airport. In Iraida's Kensington Design advertisement, the scene is set in such a way that makes her look enchantingly beautiful.
Adrienne Thomas owns this Afghan hound. Iraida has a casting agency which is PetLondon Models. Iraida is notably the most in-demand supermodel dog in the UK.
Her modeling fee is confidential, but insider information says that it can reach thousands of pounds, depending on what she is booked for.
Iraida's lovely locks are oyster brindle in color. It takes around four hours to this Afghan hound be groomed. She is lavishly pampered with expensive show dog grooming products. It is a must for Iraida to be groomed once a week to keep her long coat in tip-top condition.
Not all dogs are cut out to be pet models. There is a certain kind of temperament that makes a dog suitable to be a model. A dog has to be obedient and trainable. Iraida has that type of temperament aside from being one of the loveliest dogs in the world.
Iraida is a spectacular beauty. She is elegant; the way her silky coat flows with the wind is mesmerizing. Eye-catching, her numerous advertisements show that she is an experienced professional model. Serene, tall, she has all that it takes to be a supermodel.
Check her out at one of her modeling videos:
Source: FG Tech | YouTube