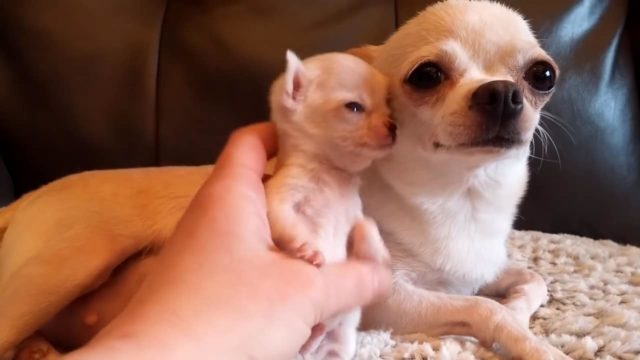 Have you ever seen a chihuahua so small that it can nearly fit in the palm of your hand? In our featured video, this micro dog is filmed while snuggling his mother. This teeny-weeny puppy is a miracle of creation!
Extra small
Chihuahuas are small, but this is a puppy that is one of the tiniest of them all. This adorable little pup weighs in at only five ounces. This dog weighs less than the average teacup chihuahua puppy!
Teacup dog
This miniature version of the already small breed of dog is exceptional. This micro chihuahua qualifies as a teacup dog because it can fit into a coffee cup because of its size. This dear doggy is fragile, especially at this stage, and it needs the warm, loving care of its mother.
Mini-me
The mother dog and micro puppy look exactly like each other. The mother chihuahua contentedly lies down of the rug, relaxed and happy because she gave birth to her mini-me. This puppy Mama smiles directly to the camera, proudly showing off her pup.
Dogs deserve our care
Us humans have a soft spot for little things, and even if there are people who discourage the practice of breeding teacups, in a litter, there could be a runt. There are dog breeders that mate a runt with another so that the puppies will be small. Teacup dogs do deserve our love, as these do need tender, loving care.
Small wonder
This small wonder is one chihuahua that can grow up to be as strong and as good-looking as its mother. These runts, though people may be dismayed at the popularity of teacups, can be bred to be under four pounds at maturity, and grow up to be healthy, fully-functional pups that deserve our love, just like any other dog.
Source: HibiscusPaws|YouTube
See other dog stories, please click here.