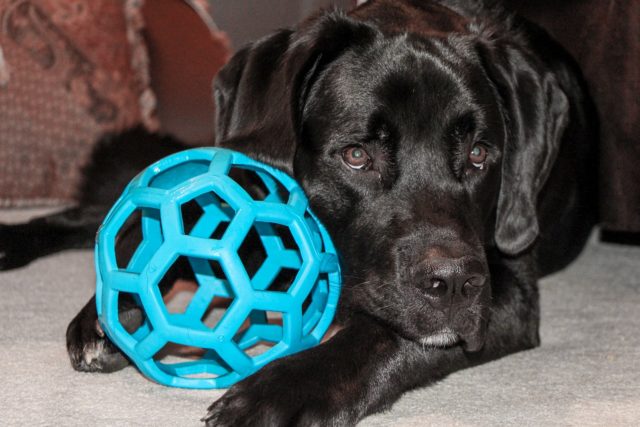 Dogs naturally love chewing and playing. Having a toy to play with is essential for them. If they're unable to follow the instinct of chewing and playing, some of them resort to destructive behavior.
There are so many options to choose from when it comes to dog toys. If you're one of those who have a heap of toys and your dog seems uninterested in any of those, you might not have the one that your dog prefers.
Each dog's preference is different, depending on their playing and chewing style. Try a few types and see which one he likes. If you already have a bunch of toys, put some of them away and reintroduce them to him a few months later. He'll think they're brand new.
Remember, there's not a single toy that do not pose a risk to your dog. Supervise him when playing to avoid the possibility of ingesting pieces that are chewed off.
Balls
Many dogs love to play fetch so having a ball is a must for them. This toy comes in a number of varieties, ranging from the typical tennis balls to glow-in-the-dark balls. There are some that has squeakers or holes for treats.
The rule of thumb in choosing the right ball is, it should be large enough so your dog can carry it but not small enough for him to swallow. Most dogs would be fine using the typical tennis ball. However, for giant dogs, choose extra-large balls. For your small dog, choose mini ball too.
Do not let your dog play with the ball unsupervised. Your dog's teeth may wear down because of the tennis balls' material. Ingesting pieces of it can also cause choking or gastrointestinal obstruction.
Discs or retrieving toys
If your dog loves playing fetch, retrieval toys and discs would definitely work for him. This is more flexible compared to a ball because it allows you to change its speed and direction. This makes playing even more challenging for your dog.
Plush toys
Dogs generally love plush toys. They either treat them as their baby by carrying them around or as prey that they tear apart. There are stuffed dog toys that have squeakers and poly-fill. There are those that are stuffing-free. For aggressive chewers, plush toys won't last long. However, this can still give him a lot of fun.
Squeakies
There are a number of different shapes and sizes of non-plush squeaky toys. These are usually made of rubber, vinyl, or plastic. Choose the one with durability that suits the chewing habits of your dog.
For aggressive chewers, thick rubber would work best. For mild chewers, choose thin plastic or vinyl toys. Thinner squeaky toys are usually cheap but they don't usually last long too.
Rope toys
This toy is made of rope that's braided. It sometimes comes with rubber or plastic materials too. Dogs can play fetch or tug-of-war using this toy. They can also chew this, which is good for their teeth due to its brushing-like action.
Supervise your dog while playing as the rope may shred due to chewing. Shredded rope may be ingested, resulting to gastrointestinal obstruction. Throw the toy away if you see that the rope start unraveling.
Tug toys
This dog toy is made either of rope or rubber. As the name suggests, this is used for playing tug-of-war, a game that's enjoyed by many dogs.
Look the one that you'd find comfortable to hold and easy to bite for your dog too. Consider your dog's strength and make sure to choose the tug toy that would be durable enough to match it.
Floating toys
For dogs who love to swim, floating toys would be a perfect match. These are toys that can be easily found and grabbed by your dog when in water like rings, rubber, and foam.
Food dispensing toys
This toy comes in different shapes and sizes and a must-have for any dog household. Aside from the fact that they're fun to play with, they're good for your dog's mental and physical stimulation too. Kong is among the most popular food dispensing toys.
Interactive toys
Interactive toys are those that stimulates your dog mentally. Food dispensing toys and tug toy are some samples of interactive toys.
Dog puzzles are another interactive toy that your dog can play with. This has compartments and mechanisms where you can hide dog treats. Your dog will surely enjoy the challenge of figuring out how he'd get his treat.
More dog post for you
Things You Should Expect When Your Dog Ages
Toy Style Options For Your DogNeglected Dog By The Highway Cannot Be Identified Because Of His Heavily Matted Fur
Likely Traces of Obsession With Our Dogs